Stahlbau Nord GmbH
A Heinrich Rönner Group Company
We, Stahlbau Nord GmbH have been a reliable partner in ship- and megayacht building for more than 25 years. Founded in 1993, our company specializes in the newbuilding of hulls, sections and superstructures for ships and yachts.
Whether made out of steel, stainless steel or aluminum, the large components built by us will satisfy even the most extravagant wishes of ship owners and designers.
We have our own construction and production facilities with significant capacity, production sites near to the water and qualified and experienced staff – all assets which are rare among the northern German shipyards.
Stahlbau Nord GmbH
Neufundlandstr. 2
D-27572 Bremerhaven
Phone:
+49 471 97398 -0
Fax:
+49 471 97398 -88
Email:
sbn@sbn-bhv.de
Recent
Suspension of business operations, partial transfer of the service portfolio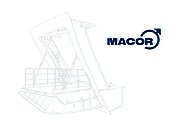 Macor decided to suspend operations as of March 31th, 2021. All liabilities resulting from contracts with Macor Marine Solutions GmbH & Co. KG will remain effective. From April 1st, 2021 onwards, our sister company EnPro Engineering- und Produktionsgesellschaft mbH will serve as your direct contact for support in the service area for current orders.
Read more