Construction of industrial Plants
In the field of industrial plant construction, we service continuously recurring orders from our customers and offer high production quality and reliability.
Construction of LNG-Reservoirs for Ship Conversions - 2019
LNG (natural gas liquefied by means of cooling) is held to be fuel of the future for the shipping industry. Compared to conventional fuels (HFO, MDO), LNG leads to considerably less pollutants and is understood to be especially environmentally friendly.
As LNG is stored at negative 160 degrees centigrade, the construction of LNG-reservoirs presents a number of challenges concerning the construction and materials used.
Our specially trained staff build LNG-reservoirs for ship newbuildings and conversions based on our customers' requirements.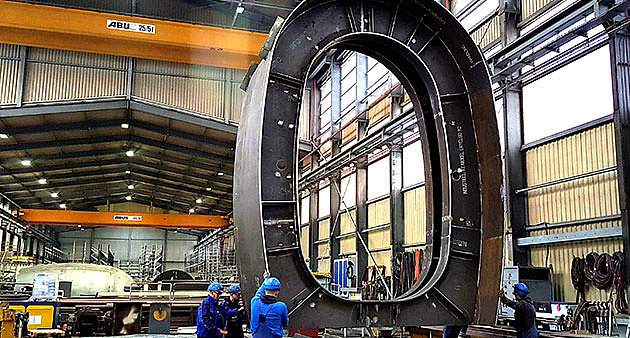 "Boxes" for the natural Gas Industry - 2019
We have been producing parts for industrial plants in the natural gas industry at our company premises in Bremen since 2015.
The picture shows a component which, due to its shape, is also referred to as a "box".
Annually, we build six of these 20-meter-long "boxes", which weigh in at 130 tons; the "boxes" are then transported to the Bremen-Neustadt port with our floating cranes "BHV Athlet" and "SK 1". There, the boxes are assembled into a plant and the final outfitting is undertaken; after another long journey, they are then used as part of a natural gas processing plant.